Delivery
RMSB, Inc. has a custom built trailer to transport constructed buildings. It is the customer's responsibility to provide access to the drop location for scheduled deliveries. The truck and trailer have an overall dimension of 52′ in length. The trailer is 9′ wide. The driver will need an extra 1′ in width on each side of either the trailer width or building width – depending on which is greater in width. Customer is responsible to provide a level site for structure to set on.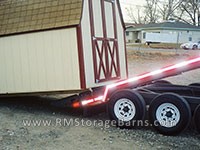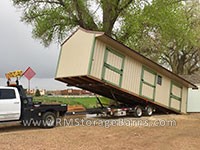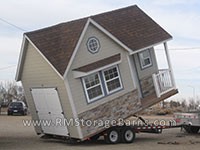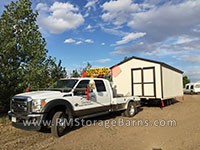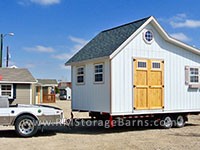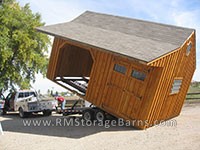 Mule 5
The Mule 5 is the perfect addition to the RMSB, Inc shed trailer. The Mule 5 is powerful enough to maneuver structures into the tight locations that cannot be accessed with the truck and trailer. The driver requires 1′ of clearance on either side of structure to position into place. Customer is responsible to provide a level site for structure to set on.
Watch us move a historical building on the Lee Martinez Farm with the Mule 5
Build On Site
RMSB, Inc offers onsite construction in select areas. Customer is responsible to provide electricity and a FLAT level site. See details below.
A 2′ clearance around the construction site is required to safely and properly install your structure. Additional costs will be accrued if customer does not provide the necessary access, and level site.
Site Preparation Tips
A level pad of road base, 2″-4″ deep. This will allow for better drainage around the perimeter of the structure for rain/snow melt dripping off the eaves.
A "Frame" of pressure treated 4×4 skids or cement block will help keep the road base in place and create a nice appearance; however it is not required.
To prepare a gravel base, remove the sod from an area slightly larger than the pad, level the site by removing dirt where necessary, and spread the gravel to a depth of about 2″ – 4″. Make sure site is level and flat.
A level concrete pad also makes a great base.
Auger anchors may be required by county/city codes. Check with your local county/city building codes.
Please allow 2′ of space around construction site, to build your shed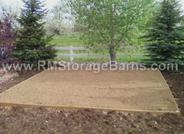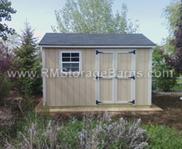 Not recommended:
Cinder blocks, inevitably, there will be some "setting" after your shed is delivered or built on site. Placing a structure up on cinder blocks greatly increases the risk that your structure will settle unevenly. This can create twisting and off set doors and window frames. Additionally, delivery and placement of structure can be more difficult with cinder blocks as a base.
Additional Photos