Custom Garage
A garage is defined as a structure to store or park motor vehicles to keep them safe and out of the weather. In today's world, this building has become so much more! A garage gives you necessary space to store your tools, toys, and gives you that hobby shop you always wanted! Besides getting your vehicles out of the weather and protecting against theft and damage to your belongings, this structure will add value to your property. Fortunately a garage does not have to break your bank!
There are many options available on siding, metal roof, shingled roof, windows, garage doors, weathervanes, cupolas, wall heights, insulation, electrical, sheet rock, etc. We also build garages with loft areas for recreational or storage space. RMSB, Inc requires the customer to provide 6-8 feet around the perimeter of the structure to be able to construct and install your garage in a safe manner. The customer is responsible to remove fence posts/panels, trim/remove trees, shrubs, landscaping and sprinklers to provide the needed access.
RMSB, Inc will provide customized building plans drawn to scale after a garage order is placed. RMSB, Inc does not provide engineering, site plans, and building plans. RMSB, Inc is not responsible for all associated costs incurred due to building code requirements. Feel free to call our sales office and speak with a sales associate for an emailed quote. RMSB, Inc has been serving the front range since 1998. Stop by and browse any of our locations and compare our Quality, Options and Style!
Base Price Includes
Installation
Constructed on Concrete Foundation
Foundation
Listed prices include concrete work
Earth Moving
RMSB, INC does not do any grading, or landscaping
Exterior Walls
2×4 wall studs 16" OC to establish an 8' wall. Double top-plates & treated bottom plates.
Siding
Primed 3/8" primed Smartside T-1-11 8" on center siding (vertical grooves) nailed directly on wall studs
Trim
Primed 1×4 Miratec Trim
Doors
36" solid steel primed entrance door
Garage Door
9'x7' Steel overhead, white garage door with inside latch (Garage Size 20'x20' and up include 16'x7' garage door)
Trusses
Engineer 4/12 pitch gable roof trusses
Roofing
7/16 OSB Roof Decking. Architectural Shingle w/ Limited MFG 30 yr Warranty. #15 lb. Roofing Felt
Vents
Ridge vent and soffit vents
Overhang
12" Soffit Overhang all around building
Freight
1st 20 miles FREE (foothill and mtn surcharges may be applicable)
Permit
RMSB, Inc does NOT obtain building permits. Customer is responsible to provide necessary building permits.
Warranty
5 year limited warranty
Prices Include Concrete
All Prices Subject to Change     ​All Sizes are Nominal
Construction Overview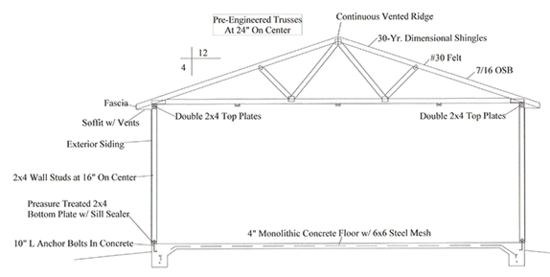 Specs may vary, depending on location of structure, wind
speeds, snow loads, and design of structure.
We Custom Build and can quote additional requirements your HOA, or building department may have. Check with your local HOA and building department for these requirements. RMSB, Inc is not responsible for HOA and building code requirements for your property. RMSB, Inc will NOT obtain necessary building permits. Customer is responsible to obtain necessary building permits. If order is cancelled due to building dept issues in any county, city, town or by customer's home owners association, or if order is cancelled after permit issuance, before or after construction, RMSB, Inc will retain no less then $500 per structure and any costs incurred by RMSB, Inc., or any of its suppliers, subcontractors, fuel, time, or any cost incurred up to cancellation of customer or denial by building department.
Additional Photos