Our playhouses are built with your child's imagination and safety in mind. Created to engage your child in the exciting and amazing world of their imagination while ensuring their safety with intentional construction methods.
Our materials are chosen to be appealing to your eyes and spark your child's imagination. Our lofts and ladder are built to encourage your child's safety. Our building and window sizes are picked to be snug on your property and just right for your child's age.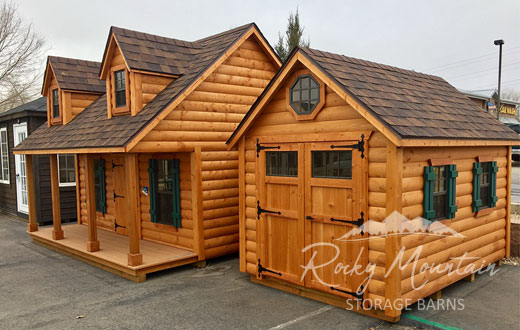 Base Price Includes
Assembled
Customer Pickup Available. (No Kits) Ask about Delivery or Onsite Build
Walls
2x4 @ 16" OC to make 4'-9" Height
Windows
(3) 14x30 Non-Insulated Single HungSlider with Grids & Shutters (1) Octagon Non-Insulated with Grids(2) Transom Windows in Garage Door
Roof Pitch
12/12
Porch
3ft with Rails
Dormers
2 with 14x21 Windows
Garage
6x9 with 6x3 Breezeway
Overhangs
Small Sized
Siding Options
-LP Lap Siding (primed) -Log Siding (stained)
Trim
Primed
Roof Sheeting
7/16 OSB
Shingles
Architectural Shingle w/ MFG Limited Warranty
Doors
1 - Adult & Child Double Door 1 - Child Dutch Door 1-Interior Child Door
Floor
3/4" Wooden
Discount Sale: 10% Off Base Price
House
Size
Garage
Size
Breeze-Way
Size
Overall
Size
Base
Price
Rent-To_own
12x12
6x9
6x3
12x24
$13691
$485
12x14
6x9
6x3
12x26
$14392
$510
12x16
6x9
6x3
12x28
$15197
$535
12x20
6x9
6x3
12x32
$17086
$605

Variety of sizing available. See an associate. Prices subject to change without notice. Rent to Own estimates may vary as sales tax, freight charges and security deposit is added if applicable.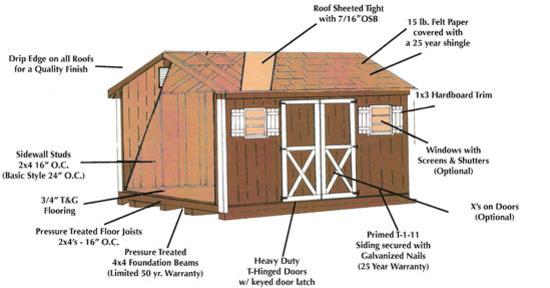 We Custom Build and can quote additional requirements your HOA, or building department may have. Check with your local HOA and building department for these requirements. RMSB, Inc is not responsible for HOA and building code requirements for your property. RMSB, Inc does not obtain necessary building permits. Customer is responsible to obtain approval from home owners association and to obtain necessary building permits. If order is canceled due to building dept issues in any county, city, town or by customer's home owners association, or if order is canceled after permit issuance, before or after construction, RMSB, Inc will retain no less then $500 per structure and any costs incurred by RMSB, Inc., or any of its suppliers, subcontractors, fuel, time, or any cost incurred up to cancellation of customer or denial by building department.
Onsite build is available within a certain radius. RMSB, Inc requires for a 2′ of space around construction site, to build your structure onsite. Please keep in mind to order a shed size that meets these requirements on your property. RMSB, Inc does not move your shed to another spot after onsite construction is completed. Customer is responsible to provide a level area for structure. See additional info under Site Preparation.
Affordable Quality Structures