Our Lean-To Style Shed is very unique as you can place this storage shed next to an existing building. This style is PERFECT for limited space properties.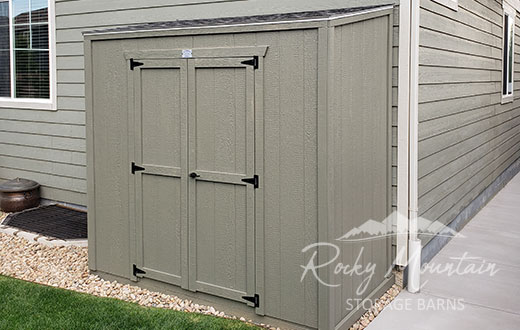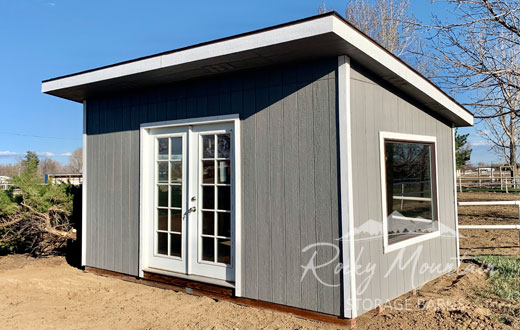 Base Price Includes
Assembled
Customer Pickup Available. (No Kits) Ask about Delivery or Onsite Build
Walls
7' Stud @ 16" OC Sloping to Short Wall
Siding
Primed 3/8" Smartside T-1-11 8" OC Siding (Vertical Grooves)
Door
4' Standard Wood Double Door (With Keyed Door Latch)
Floors
Wooden 3/4" Tongue & Groove
Roof Pitch
2/12
Overhangs
None
Shingles
Architectural Shingle w/ MFG Limited Warranty
Roof Sheeting
7/16 OSB
Moisture Protection
Ice & Water Shield
Discount Sale: 10% Off Base Price
Building Size
Base Price
Rent-To-Own
8x8
$3320
$130
8x10
$3670
$145
8x12
$4025
$160
8x16
$4990
$195
10x10
$4230
$165
10x12
$4790
$190
10x16
$5600
$220
10x20
$6570
$260
12x12
$5500
$215
12x16
$6725
$265
12x18
$7335
$290
12x20
$7945
$315
12x24
$9165
$360
12x28
$10390
$410
12x32
$11905
$470
12x36
$13035
$460
16x20
$10835
$425
16x24
$12925
$460

Variety of sizing available. See an associate. Prices subject to change without notice. Rent to Own estimates may vary as sales tax, freight charges and security deposit is added if applicable.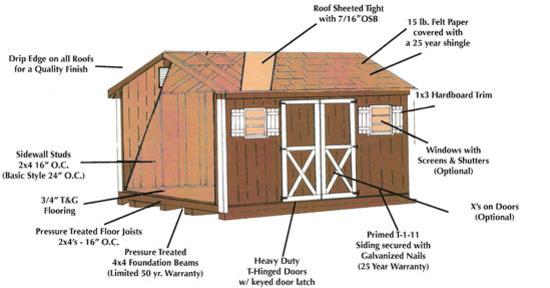 We Custom Build and can quote additional requirements your HOA, or building department may have. Check with your local HOA and building department for these requirements. RMSB, Inc is not responsible for HOA and building code requirements for your property. RMSB, Inc does not obtain necessary building permits. Customer is responsible to obtain approval from home owners association and to obtain necessary building permits. If order is canceled due to building dept issues in any county, city, town or by customer's home owners association, or if order is canceled after permit issuance, before or after construction, RMSB, Inc will retain no less then $500 per structure and any costs incurred by RMSB, Inc., or any of its suppliers, subcontractors, fuel, time, or any cost incurred up to cancellation of customer or denial by building department.
Onsite build is available within a certain radius. RMSB, Inc requires for a 2′ of space around construction site, to build your structure onsite. Please keep in mind to order a shed size that meets these requirements on your property. RMSB, Inc does not move your shed to another spot after onsite construction is completed. Customer is responsible to provide a level area for structure. See additional info under Site Preparation.
Affordable Quality Structures